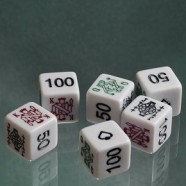 There are six dice, each with an Ace of Spades, a King, a Queen, a Jack, the number 50, and the number 100.
Each player takes TURNS, ROLLing the dice to try and score points.
You add together points from each TURN to try and reach 10,000 points- but the first player to reach 10,000 does not necessarily win.
TURNS consist of ROLLs of the dice, starting with all 6 dice.
Learn More – Click Here